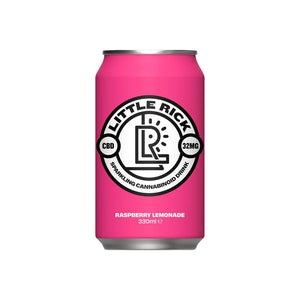 Novel Food application number: RP438
Raspberry Lemonade is Little Rick's third in house flavour, designed to refresh your pallet with a splash of real Raspberry and Sicilian Lemon fruit juice.

This flavour is a riff of the classic summer cooler and with the addition of Raspberry to add sweet notes, it is designed to perfectly mellow the flavour of hemp.

Once again, this is an all natural recipe using a low calorie blend of British beet sugar and natural plant-based, sweetener to give you a truly enjoyable drink without the usual soft-drink-guilt.

Little Rick's second - and very different - Raspberry flavour is simply a must-try for anyone wanting a refreshing, fruity drink that helps you chill the **** out!
Little Rick Raspberry Lemonade ticks the following boxes:
- 330ml Labelled, small-batch can design
- 12 cans in a case
- Low sugar
- Low calorie
- Only natural sweeteners
- Only natural flavours
- Vegan-friendly
- Halal-friendly (<0.03% ABV)
- Contains no preservatives

Cannabinoid profile:
- CBD: 32 MG
- CBC: 1.2 MG
- CBG: 6 MG
Ingredients: Water, Acid, Natural Flavourings, Colour, Sweeteners, Acidity Regulator, Preservatives, Full-Spectrum CBD, Limonene, THC content<0.2%
Allow 30 minutes after drinking for full effects to take place. Effects last up to 8 hours.
Do not operate heavy machinery after drinking.