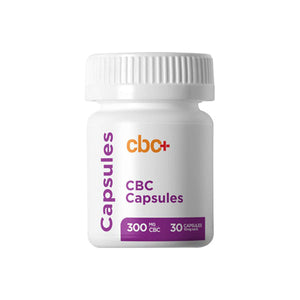 Novel Food application number: N/A
As the first brand that's proud to offer fully CBC (Cannabichromene) products, CBC+ offers innovation with their diverse range of products. With CBC+'s Capsules, it provides a fun, effective way to get regular, daily CBC intakes through more accessible means. Each jar contains 30 capsules (with 10mg per capsules), all the calming benefits and powerful effects of CBC are also within each and granting you strong health benefits. They've all been subject to independent lab tests to guarantee their safety, potency and purity before their available.

Derived from Organically Grown Hemp
Lab-tested for Safety, Purity, and Potency
Childproof and Tamper Evident Cap
Dosage: 10mg CBD per capsule. Do not exceed 70mg of CBD Edibles per day

Ingredients: Hydroxypropyl Methyl Cellulose (HPMC), CBC extract, MCT Oil
What is CBC?
As one of the 'Big 6' of CBDs, CBC is often found in lower concentrates than CBD (Cannabidiol) and THC (Tetrahydrocannabinol) during hemp extraction and because of it's scarcity it is of higher value. Through studying, it has been shown that CBC is a powerful, non-psychoactive cannabinoid in it's own right and has been linked towards helping to reduce acne, depressive symptoms, pain and improve cognitive functions among it's various benefits.

THC Content<0.2%