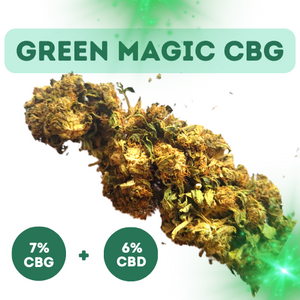 Green Magic - Our highest % CBG hemp flower to date. A brand new strain here at CBDBudShop, delivering a fresh, piney smell, and taste on the on the apple/ berry side. This batch comes with huge, well formed buds in lighter shades of green with fleks of white and occasional purple alongside some tightly curled, pistil covered leaves. The cure is on the dryer side, cultivated and cured 100% organically to produce super high levels of CBG, these hempflowers are unique to any CBD or CBG hemp strains we've had before. Recommended for those desiring higher CBG levels.
Our loose hemp CBD tea is derived from the highest quality hemp strains bred specifically to yield a high CBD content, with low, non-psychoactive levels of THC. Legal in the UK throughout the EU, all batches are third party lab tested to ensure 0.2% THC and less than 1mg THC per sealed container. Organic, non-pesticide, non-GMO. All hemp is harvested, broken down by machine trimmer and cured.

We make no medical claims, our processed industrial hemp souvenirs are not sold to be ingested. CBD products are not medicines and can not diagnose, treat or cure diseases. Always consult your own doctor before starting a new dietary program.