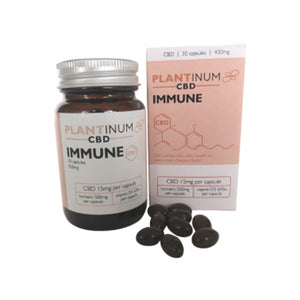 Novel Food application number: RP427
Combining some of natures most potent ingredients, Plantinum CBD with both Turmeric and Vitamin D3 have designed the ultimate daily immune supplement ritual. Each capsule contains 15mg of CBD, 500mg of turmeric and 600iu of vitamin D3 for a pure and potent formula containing no unnecessary fillers or ingredients. These capsules have been subjected to independently third party tests to guarantee their high quality and consistency.

Turmeric provides a natural immunity boost along with anti-inflammatory and antiviral properties that helps fight against colds, coughs and viruses. Vitamin D3 helps to maintain healthy levels of immunity. Together both will aid in a healthier and stronger immune system. Throw in CBD and their health benefits towards the body and mind, you'll have a truly premium product that will give you everything you need to live a more balanced lifestyle.
Made In The UK
450mg CBD
15mg CBD Per Capsule
500mg Turmeric Per Capsule
600iu Vitamin D3 Per Capsule
30 Capsules Per Bottle
To GMP Code of Practice
Independently Tested to Ensure High Quality and Consistency
No Unnecessary Fillers or Ingredients
THC 0%
Advisory Information: Check with your health professional if you are taking any form of medication whether it is safe to use. We also recommend seeking professional advice if pregnant or breastfeeding. These capsules are not intended to diagnose, treat, cure or prevent any diseases.

THC Content<0.2%