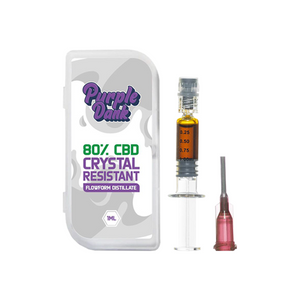 Limited Time Offer: Buy 1 Get 1 Free
Purple Dank proudly presents their own brand of highly refined, ultra broad-spectrum Crystal Resistant Flowform Distillate (CRD). It contains 80% of CBD alongside 20% of minor cannabinoids (such as CBC, CBG & CBT to name a few) that are all resistant to crystallization which ensures that the Crystal Resistant Distillate will retain it's natural liquid form for up to 3 months or longer.

With a 1ml syringe, you'll be able to experience for yourself the "entourage effect" of Purple Dank's Crystal Resistant Flowform Distillate for a potent synergistic phenomenon when all the cannabinoids will boost to their combine their respective effectiveness together. You can use the Crystal Resistant Distillate for a variety of uses including vaping, edibles, oils and skincare products to name a few examples.

Purple Dank's Crystal Resistant Flowform Distillate has been subject to third party lab tests to ensure their complete safety, purity and potency before use. It is THC free so there is no psychoactive effects apart from the aforementioned entourage effect it provides.
1ml Syringe
80% CBD Content
20% Minor Cannabinoids (CBC, CBG, CBN, CBDv, CBT)
Third Party Lab Tested
THC Free
Caution: Do not consume if under the age of 18. Do not consume if you are pregnant or breastfeeding. Do not consume if you are taking a regular dose of medication. If you have any health concerns, please contact a healthcare professional. Do not exceed a limit of 70 milligrams (mg) in a 24 hour period. If experiencing adverse symptoms stop use immediately. If symptoms persist, seek medical advice immediately. Always read the label and use only as directed.

This product should not be used as a replacement for medicine or a healthy diet.

Ingredients: Broad-Spectrum Crystal Resistant Flowform Distillate, THC<0.2%