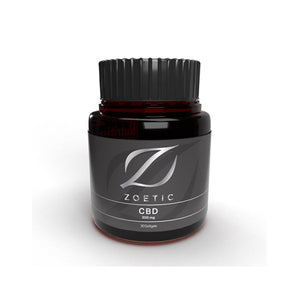 Novel Food application number: NF 2020/2031
Zoetic's aim is to make products that enhance the wellness of both their customers and the world around them. Through environmentally friendly growing practices, they create a product that you can trust and be assured you are doing your part in supporting companies that care about the earth.

Zoetic CBD products are produced without any unnatural chemicals. They are also free of neurotoxins and heavy metals and produced with natural sunlight and recycled living soil.
- 30 Soft gels
- 10mg Per gel
- Vegan friendly
An alternative to oral CBD oils, these premium CBD softgels are an ideal way to regulate your intake of CBD. They are quick-dissolving and easy to administer. Suitable for vegans, allergen-free and 0.0% THC.

Best swallowed with water but we add caramel to them so you can even chew them if you prefer!

Contains cannabidiol from hemp extract.

Ingredients: Fractionated coconut oil, modified food starch, glycerin, carrageenan, lecithin, purified water, cannabidiol, caramel
THC content<0.2%